Re: Mezzo's Obligatory Ice Level Month
Day 6: Shiver Star (Kirby 64)
Kirby 64: The Crystal Shards is Kirby's first foray into the realm of 2.5D, and the conclusion of the "Dark Matter Trilogy" started by Kirby's Dream Land 2 and 3. Kirby teams up with Waddle Dee, Adeleine, King Dedede, and Ribbon to save Ribbon's home planet from Dark Matter.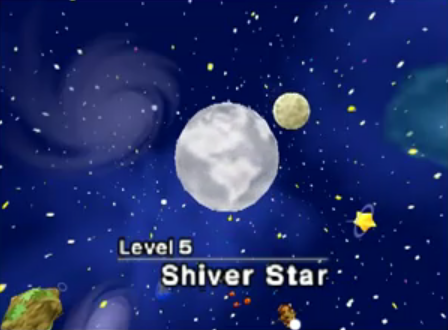 If you look at Shiver Star on the overworld map, you'll see it's actually a frozen Earth. This raises a lot of very confusing questions.
As for the Shiver Star stages themselves, they're mainly cheerful snowy areas. The first is a snow-covered mountain, the second is up in the clouds, the third is a snowy shopping mall, and the fourth is a forbidding factory.
Kirby still has his signature copy ability in this game, allowing him to absorb powers from enemies he eats. Unique to this one, though, is the ability to combine powers. You'll find lots of enemies around that grant the Ice ability when inhaled, and then you can combine it with other abilities for different effects. Pairing it with Fire grants uselessness, Needle turns Kirby into a giant snowflake, Cutter gives him a pair of ice skates, Bomb turns him into a snowman with a bomb on his head, Stone makes him into a curling stone, and Spark turns him into a refrigerator that throws frozen food at enemies.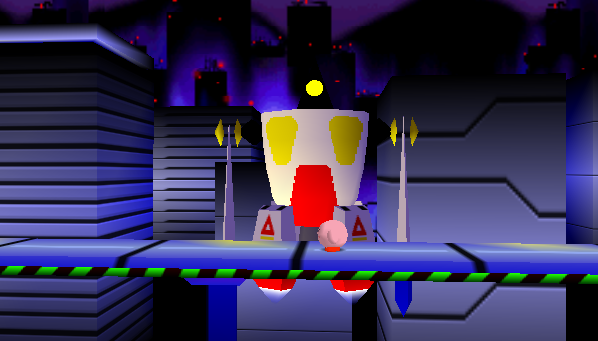 The end boss is a robot named HR-H. It attacks by trying to slap you with its fins, launching missiles at you, and using lasers from its eye. I actually found it pretty easy to beat with the fridge attack, since the food launched by it can both hurt the boss and heal Kirby. Once you beat it, Kirby and company move on to the next planet.
The Shiver Star theme is quite cheerful, while the factory music is doomy and gloomy.